Herbal Juice Manufacturers in India – Hectic schedules lead to an irregular diet and poor nutrition, which gives rise to long-term health issues. Against these busy schedules, people strive to add herbal juices in their diets to provide their body the access to all the essential vitamins and minerals. Witnessing the diverse benefits, the herbal juices are consumed by a larger portion of Indian community. Arlak Ayurveda, the best Third Party Herbal Juice Manufacturers in India is considered the most creditable firm that offers rich quality Herbal juices formulated with premium ingredients.
Arlak Ayurveda is the most trustable Ayurvedic brand that that solely deals in a wide-spectrum range of Ayurvedic and Herbal products. The company has made its indelible mark on the pharmaceutical sector across PAN India. We have in-house production units with GMP-WHO accreditations, allowing us for efficient mass production. Being one of the prominent Herbal Juice Manufacturers in India, we constantly strive to innovate our products and to supply them to our clients and customers in the most hygienic and safeguarded manner.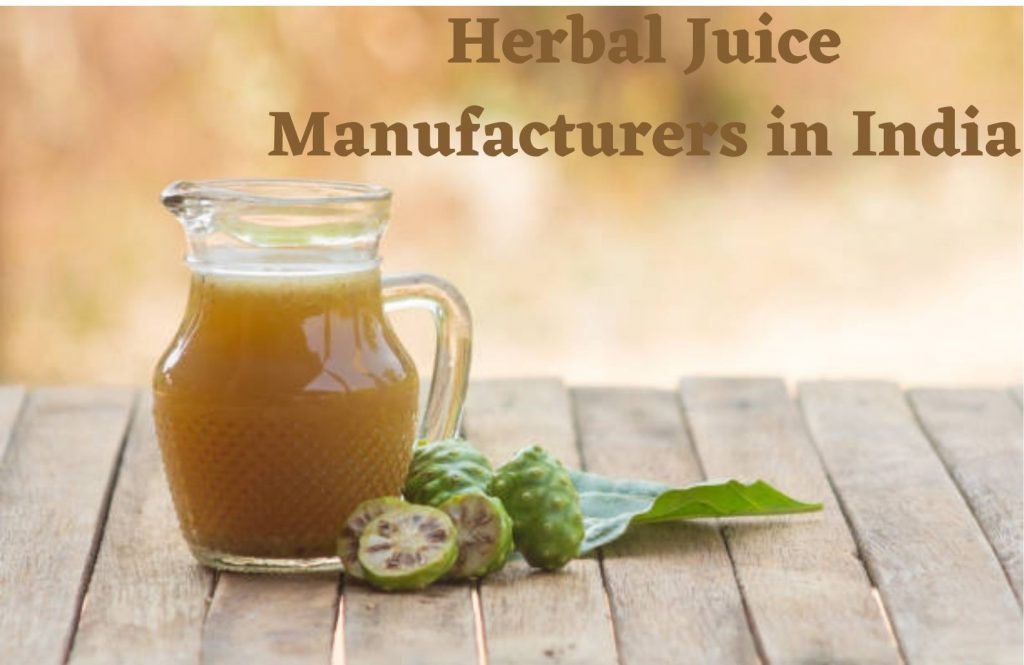 If you want to secure your hands on the rich quality Herbal juice range without investing a large chunk of your investment, do not look further and contact Arlak Ayurveda. Call us at +91-7696263636 or email us at tarandeep@arlakbiotech.com to know more.
Top Herbal Juice Manufacturers in India – Arlak Ayurveda
Being a pioneer in the herbal juice third-party manufacturing, Arlak Ayurveda has revolutionized the healthcare industry with its supremacy. Through continual innovation, extensive research, and development, we have elevated the Ayurvedic third-party manufacturing business to new heights. The tools, equipment, and machinery used for the manufacturing of high-quality Ayurvedic products are keenly examined and disinfected at our premises. Furthermore, we do a production analysis prior to our manufacturing process to ensure maximum efficiency and smooth operations. Get some insights of the Top Third Party Ayurvedic Medicine Manufacturers in India:
Superior quality raw materials sourced from India's certified vendors.
Complete adherance to environmental protocols and quality parameters.
Excellent logistics channels for prompt delivery of products at doorsteps.
Advanced infrastructural facilities for analytical operations.
Natural Herbal Juices Offered at Client-Desired Rates
Arlak Ayurveda is the fastest growing Herbal Juice Manufacturers in India that uses natural herbal formulations and precisely selected ingredients to make the products more effective. We believe in providing great results at every stage of the process, which is why we make our herbal Juices using a comprehensive line of Herbal components formulas. Our quality auditing team conducts several testing trials during every stage of the manufacturing process to ensure optimal quality of our products. Here are the most demanded naturally formulated Herbal Juices by Arlak Ayurveda:
Aloevera Tulsi Juice
Maintains healthy skin and body.
Relieves from fever and common cold.
Reduces heartburn.
Amla Juice
Aids in boosting immunity.
Lowers cholesterol levels.
Stimulates the immune system.
Apple Cider Vinegar
Promotes better digestion.
Controls blood sugar levels.
Promotes weight loss.
Karela Juice
Prevents premature aging.
Cleanses and purifies the blood.
Eradicates fine lines.
Noni Juice
Promotes healthy functioning of the liver.
Maintains cardiovascular health.
Provides relief from memory loss.
Genuine Adherence to Numerous Quality Principles by Arlak Ayurveda
In pursuance of keeping the quality of products at the pinnacle, the prominent Third Party Herbal Juice Manufacturers in India, Arlak Ayurveda, stringently follows a complete set of quality principles. Each of our formulation is subjected to a series of clinical tests, the results of which are evaluated by profound Ayurvedic experts and herbal practitioners. Quality proincipples followed at Arlak Ayurveda are as follows:
We pack our products in safe and sterile packaging to avoid spoilage and leakage.
The company constantly brings forth necessary improvements in its product portfolio.
Our manufacturing tasks are carried out under WHO-GMP certified norms.
Benefits You will Avail by Working with the Top Third Party Herbal Juice Manufacturers in India
Our firm dedication,high-quality Ayurvedic formulations, and professionalism make us counted the best choice for all those startups, small firms, mid-tier companies, and established firms who are planning to serve the best quality Herbal Juices in the market. We maintain a large catalogue of high-quality raw materials to ensure that our customers receive the optimum amalgamation of herbal ingredients for their brands and to establish a distinct line of herbal products. Look out the benefits of choosing the leading Herbal Juice Manufacturers in India:
Best-Quality Herbal Juice Range in a Bulk
Best and Genuine Product Pricing
Honest and Profitable Business Deals
100% Quality Assurance on Formulations
Enhance your product line by acquiring the top quality herbal juices from the renowned Herbal Juice Manufacturers in India, Arlak Ayurveda. We are all set to walk with you in the long race and we assure you to provide the remunerative manufacturing solutions.
Reach Out to Us!
Name: Arlak Ayurveda
Address: SCO-5-6, Wadhwa Nagar, Near Hotel Sunpark, Zirakpur (Chandigarh)
Phone: +91-7696263636
Email: tarandeep@arlakbiotech.com