Ayurvedic PCD Pharma Franchise in Uttar Pradesh – The traditional health care of India and one of the world's oldest medical systems is "Ayurveda". This ancient India medical system known as Ayurvedic medicine system is based on ancient sources and writings relying on the natural and holistic approach to mental and physical health. The vision of Ayurvedic medicines is to create a balance between body, mind, and spirit and cleanse your body. Many types of research suggest that Ayurvedic medicines reduce pain to a great extent and increase function in people with osteoarthritis and also helps to manage type-2 diabetes.  Contact now to get more details:+91-7696263636 or drop us an email at- enquiry@arlakayurveda.com.
The business of Ayurvedic franchise medicines is a good opportunity to earn a big profit for business seekers. Though modernity and westernization are changing the world still people prefer to consume natural products over synthetic chemical products. Ayurvedic products are mainly made from plants, minerals, and ores so it is obvious why is it preferable. The demand for these products is quite high in Uttar Pradesh and in order to fulfill the requirement and demand of the market and earn good profit you can start your business of Ayurvedic PCD franchise in Uttar Pradesh.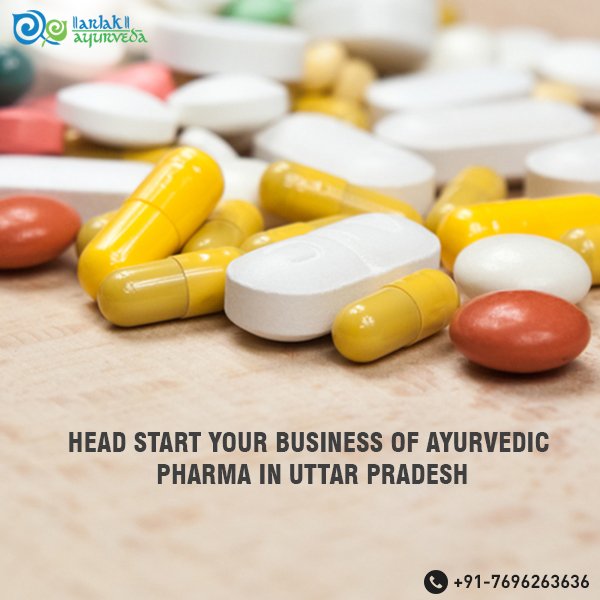 Head Start Your Business of Ayurvedic Pharma in Uttar Pradesh
 The demand for Ayurvedic products is quite high in the state of Uttar Pradesh and starting your new venture in such a market is bound to be profitable. The biggest advantage of starting your PCD franchise business in Uttar Pradesh is that there are a plethora of pharma companies established in this state which would provide you ample opportunities to start and set up your business. The new government is also taking initiatives to boost the Ayurvedic pharma industry. With the rise of this industry, the availability and demand for Ayurvedic products and medicines will surely increase.
Many farsighted investors are investing their money in this industry to have a flourishing business in the near future. If you invest your money you can choose the region where you want to start your business as you are the monopoly holder. You can choose an area where the demand for people is unmet regarding such ayurvedic products and establish your business.
Vacant Locations for Ayurvedic PCD Franchise in Uttar Pradesh 
We at Arlak Ayurveda offers a quality range of products for PCD Pharma Franchise Business in Uttar Pradesh. It is one of the most demanded locations for pharma products. With carrying a population of around 20.9 Crores. it is one of the most prominent places to start a PCD Pharma Franchise Business. Numerous investors are investing in ayurvedic franchise companies at this locations. o, if you are also wondering to start franchise business at the mentioned location in Uttar Pradesh, get in contact with us for best deals and offers.
Agra
Firozabad
Mathura
Allahabad
Fatehpur
Pratapgarh
Kaushambi
Bareilly
Chitrakoot
Lucknow
Mirzapur, etc.
You can avail of monopoly rights by the ayurvedic pharma franchise company Arlak Ayurveda all over India. 
Why invest in Ayurvedic Pharma Franchise Company in Uttar Pradesh?
As a newcomer or a pharma professional if you want to invest your money then it is advised to choose the PCD franchise. You can join hands with top pharma companies to have good credit in the market and consequently gain good profit. State of the art infrastructure is used by such industries to prepare the herbal products and all the guidelines related to manufacturing are strictly met, these companies do not compromise with the quality of the product. The franchise company market only those Ayurvedic drugs that are FSSAI and DCGI approved that is the products are quality tested. There is a wide range of Ayurvedic products from capsules, tablets, ointments to juices and lotions and many more.
Given below are some advantages you can get if you invest in Ayurvedic PCD Franchise in Uttar Pradesh-
You can get hold of customers by using the company's brand name to sell the product.
You have the monopoly right, which is provided by the company that means you can work independently.
The PCD business will give you a head start in your new venture not to forget it will give you a good market presence.
You can earn profit by a huge margin if you choose the right region and invest in the PCD franchise in Uttar Pradesh.
Hence, it is important to think wisely and invest your money today for a profitable venture.
Referral Links of Arlak Ayurveda
How to Take the Franchise of Ayurvedic Medicine Company?
Ayurvedic industry in India