Top 10 Ayurvedic Toothpaste in India – Oral Hygiene is an essential part to maintain overall physical well-being throughout life. Brushing Teeth comes under the daily schedule of a person that he does first after waking up in the morning. For the adequate cleaning and protection of teeth, gums, and mouth, it is necessary to use good toothpaste that ensures complete maintenance of oral health. Therefore, we have brought a complete list of the 10 Best Ayurvedic Toothpaste in India that are trusted by numerous well-known dentists.
You must be wondering why use Ayurvedic Toothpaste when there is a large variety of toothpaste in the market. It is because Ayurvedic Toothpastes are 100% natural and are formulated with natural and organic ingredients. In order to get rid of several teeth problems, people invest in various tooth gels, mouthwashes, branded toothpaste, and whatnot. But, only one Ayurvedic Toothpaste can relieve all the mouth-related issues with regular usage. Thus, to make it convenient for you to choose the correct toothpaste, we have curated a list of the Top 10 Ayurvedic Toothpaste in India that are useful for overall mouth protection.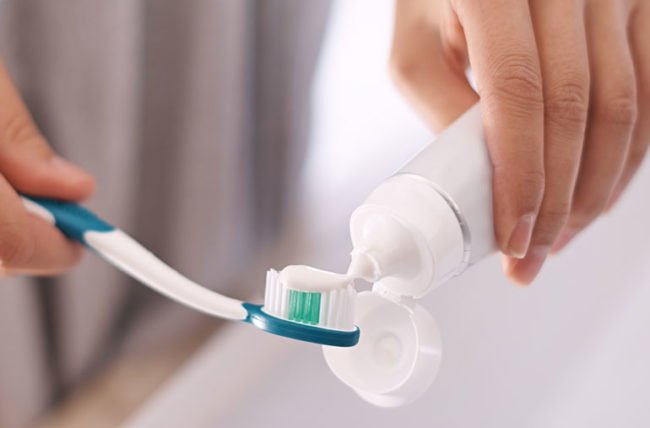 A Herbal toothpaste Mydent is a pioneer in the list of 10 Best Ayurvedic Toothpaste in India. It is a non-fluoridated, triclosan toothpaste that is made of natural ingredients and is free from artificial flavors. From cavity protection to healthy gums, this toothpaste works amazingly on the teeth. Due to its astringent, cleansing, and anti-microbial properties, it offers a refreshing effect on the teeth and mouth. Moreover, this Ayurvedic Toothpaste is also composed of herbal oils that work by killing germs that are present inside the mouth.
Here are the ingredients present in this toothpaste:
| | |
| --- | --- |
| Trifla | Dandasa |
| Menthol | Babool |
| Hirabol | Lavang |
| Majuphal | Fitkari |
| Gaultheria | Akarkara |
| Maulsar | Bhibhitaki |
| Kapoor | Vajradanti |
| Khair | Amla |
DENTORISHT Strengthened Teeth and Gums Toothpaste
Dentorisht Ayurvedic Toothpaste is made up of easily available ingredients in the kitchen such as Guava, Neem, Pudina, Dalchini, Kapoor, Babool, Laung, Miswak, Vajradanti, Akarkara, and Pippali. The blend of these natural ingredients altogether works wonders for the teeth and offers effective results in rapid time. This toothpaste is an herbal remedy for sore gums, tooth decay, and gum bleeding. Moreover, it also gives a fresh minty feeling to the mouth and keeps it refreshed for longer hours.
Uses of Dentorisht Toothpaste:
Prevents plaque formation.
Fights mouth infections.
Prevents swelling and inflammation of gums.
MOUCARE Herbal Toothpaste
Coming up next in the list of Top 10 Ayurvedic Toothpaste in India is Moucare Herbal Toothpaste. It is a 100% protective formula that starts performing its effective results within 24 hours. Using this toothpaste twice a day helps in teeth whitening, gum bleeding, sensitivity, and decaying of the teeth. This toothpaste also contains antibacterial ingredients that reduce the risk of infected gums and make the teeth stronger.
RAYDENT Sensitivity Relief Toothpaste
Next in the list of 10 Best Ayurvedic Toothpaste in India is this Ayurvedic Toothpaste, Raydent. It is made with traditional Ayurvedic medicines that altogether reduce the aerobic dental bacteria and prevent the accumulation of plaque from the teeth. This Ayurvedic toothpaste is pleasant in taste due to the natural scent of ingredients present in it. Furthermore, it also reduces the redness and swelling of gums.
Benefits of ingredients present in this herbal toothpaste:
Katsarya – reduces pain and inflammation in teeth
Manjistha – helps in bleeding and inflamed gums.
Tulsi – prevents tooth decay and cavities.
Kachur – treats gingivitis, toothache, and plaque.
Sheetal Chini – prevents bad breath.
Majuphal – keeps the teeth strong and healthy.
Pudina – fights off risky germs in the mouth.
Choti Elaichi – promotes fresh breath
SUPER-32 Advanced Herbal Formula Toothpaste
Super-32 Toothpaste acts as an advanced herbal formula that is specially designed for sensitive teeth. It is a 100% herbal product that constitutes natural and pure ingredients like Tulsi, Cloves, Tomar Beej, Neem, etc. This toothpaste is known as a one-stop dental care solution that provides complete protection from several dental problems including poor breath, cavities, weak gums, gingivitis, yellowish teeth, plaque, and many more.
DANTFRESH 10HR Protection Toothpaste
Enriched with herbal ingredients, Dantfresh Toothpaste is one of the best Ayurvedic remedies for strong teeth and healthy gums. This toothpaste acts by protecting, correcting, and curating multiple problems related to teeth and gums. It offers an instant cooling sensation to the teeth and effectively removes bad odor from the mouth. It removes the build-up of germs and improves oral health.
Mentioned below are the natural ingredients of this toothpaste with their dosages:
| | |
| --- | --- |
| Akarkara | 20 mg |
| Kapoor | 5 mg |
| Babul | 25 mg |
| Dalchini | 10 mg |
| Pudina | 25 mg |
| Majuphal | 5 mg |
| Neem | 15 mg |
| Miswak | 20 mg |
| Laung | 10 mg |
| Haldi | 10 mg |
| Pippali | 10 mg |
| Guava | 10 mg |
| Vajradan | 20 mg |
ZODENT RED Herbal Toothpaste
A unique blend of 14 natural herbs, Zodent Red Toothpaste is another herbal composition that provides effective results to the teeth. This toothpaste provides 10 hours of protection to the teeth that protect against tooth decay, cavities, and plaque formation. It is also used in hardening of gums and teeth, inflammation of gums, healing wounds, and bad breath. In addition, it builds a protective shield against the sensitivity of the teeth due to acids, sweets, heat, or cold.
Highlights of this Ayurvedic Toothpaste
Offers intensive freshness to the mouth.
Repairs Sensitive Teeth
Contains Ayurvedic Healing Properties
THERMODENT Sensitive Herbal Toothpaste
Thermodent Sensitive Herbal Toothpaste is another ayurvedic tooth care product that is counted under the list of 10 Best Ayurvedic Toothpaste in India. This toothpaste provides proven relief from the sensation caused by sensitive teeth and also provides sensitivity protection from long hours. If you are at risk of extreme sensitivity to your teeth, then Thermodent Toothpaste can definitely go well with your brushing regime.
AYURFRESH Complete Oral Care Toothpaste
A dental toothpaste is recommended by a number of dentists that keep the mouth clean and fresh throughout the day. It does not contain any harsh chemicals which make it free from any harmful effects in the mouth. It is a mixture of Indian herbal ingredients including neem, vyavidang, gandhpura, elaichi, bakul, dalchini, satpodina, and a lot more. Moreover, Ayurfresh Complete Oral Care Toothpaste provides adequate relief in sore gums and mouth ulcers.
Other benefits of this Ayurvedic toothpaste:
Prevents Toothache and Decay
Relives Bad Breath
Strengthens Teeth and Gums
Final Words
These are the Top 10 Ayurvedic Toothpastes in India. Add any of the above-mentioned toothpaste to your brushing routine and notice the visible differences in just a few uses. All these Ayurvedic and Herbal Toothpaste are available in premium quality at the Best Ayurvedic PCD Company in India, Arlak Ayurveda.