Top 10 Ayurvedic Liver Tonic in India – Liver is the second-largest organ in the body that copes up with multiple functions inside the body like maintaining blood sugar levels, processing food, filtering blood, forming bile, and a lot more. Thus, it is important to manage liver maintenance and keep it away from damages. Many people across the country invest in various liver tonics to maintain liver health but the wonders Ayurveda does to the liver are matchless. Here in this blog, we have described the Top 10 Ayurvedic Liver Tonic in India, recommended by well-known herbal practitioners and Ayurveda experts.
Liver Tonics are the key antioxidants that protect the liver from the harmful effects of free radicals and promote the regeneration of the liver cells. With the blend of Ayurveda, these tonics strengthen liver health, promote weight loss, and support the functions of the respiratory system and immune system. There are some syrups that are considered the Best Ayurvedic Liver Tonics in India due to their best and effective outcomes for a healthy liver.
Top 10 Ayurvedic Liver Tonic in India
All the Ayurvedic Liver Tonics mentioned below have been practiced and formulated under the overlook of the Industry's top-class Ayurveda Experts and Herbal Practitioners. Due to their effective and instant relief formula, they have been trusted by top-class doctors and healthcare experts.
1. Regliv Liver Syrup
Enriched with the goodness of rich herbal ingredients including Bhringraja, Bahera, Nagarmotha, Bhumi Amla, Kutki, Sirfunka, Biabidang, Pipal, Sonth, this liver tonic is a boon to a healthy liver as it contains the capabilities of boosting the liver system and reducing fat accumulation in the liver. Because of the high potencies of natural ingredients this syrup holds, it is considered one of the best liver tonics in India. It is known to be extremely effective in the treatment of people with Liver Cirrhosis or Hepatic Cirrhosis.
Best Uses of Regliv Liver Syrup:
Reduces fat accumulation in the liver.
Cures prolonged illness and Convalescence.
Alleviates Viral Hepatitis and Infective Hepatitis.
Promotes healthy liver system.
Treats people with liver diseases.
2. Hepazyme
This Ayurvedic liver tonic is fabricated with the rich-extracted ingredients of Giloy, Amla, Ajvain, Kutki, Bhringraj, Saunf, Jeera, Kasni, Punernava, Chirayta, Rohitka, Baheda, Harad, and Makoy with enzymes. This liver tonic with enzymes is used in the treatment of G.I. spasms Disease, flatulence, heartburn due to stomach gas, and stomach bloating. Due to its antioxidant properties, it promotes the detoxification process of the liver and healthy digestive functions in the food.
3. Regliv DS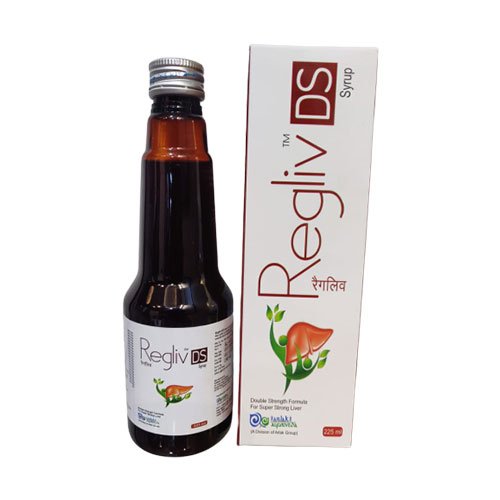 An alloy of various natural herbs Regliv DS is another liver tonic with a flavoured syrupy base that is best used to curtail liver complaints. It is used in the treatment of digestion as it improves the digestive system. Additionally, it also helps in treating liver conditions of infective hepatitis (severe infection on the liver) and viral hepatitis (an infection that causes damage and inflammation to the liver). The naturally-extracted ingredients and herbs in this syrup have their own benefits which are as follows:
Bhringraj – prevents inflammation of the liver
Rohitaka – secures the membranes of the liver cells
Ashwagandha – reduces liver damage from toxins, fatty liver disease, and radiations
Haldi – promotes liver functioning
Harad – maintains a healthy liver
Giloy – discards toxins from the body and go up against liver diseases
Sharpunkha – helps in detoxification of the liver and treats liver cirrhosis
Punarnava – rejuvenates and cleanses the liver
Makoy – sustains liver health and attacks jaundice
4. Livcur-DS
Another highly beneficial liver tonic that is counted as one of the Top Ayurvedic Tonic in India is Livcur-DS. This ayurvedic liver tonic is best used to protect the liver from various hepatotoxins. It is an amalgamation of two amino acids that work by safeguarding the liver from harmful chemical substances known as free radicals and prevent from liver damage. It contains digestive enzymes that boost the action of food in the stomach and gut (intestines) which helps in the correct absorption of nutrients.
5. Heparisht
Up next we have is Heparisht Liver Tonic that contains the potentialities of treating various liver-related diseases. It is a Homeostatic Ayurvedic Health Tonic is filled with herbal nature of Rohitka, Arjuna, Amla, Daruhald, Pittpapra, Kadu, Makoi, Bhumiamalki, Bharangraj, Yashtimadhu, Pipplimol, and Punernava. It supports the healthy liver and the proper functioning of the gallbladder in the body.
Useful Benefits of Heparisht Syrup:
Infantile Liver Disorders; recurring episodes of NeuroblastomaAmplified Sequence (NBAS) Mutation
Hepatitis; inflammation of the liver
Anorexia; an eating disorder
Jaundice
Cirrhosis due to Alcohol or Drugs; replacement of healthy liver tissues into scar tissues
Damage by Free Radicals
6. D-Liver Syrup
A valuable combination of Hepato-Protective & Hepato-Stimulant, D-Liver Syrup is a useful ayurvedic remedy that helps to treat and cure liver tissues. The Hepato-Protective & Hepato-Stimulant in this tonic help in alienating the liver and standardizing its functions such as Metabolic Products Detoxification, Blood Coagulation, Albumin-globulin ratio, Hepato-toxins, etc. Moreover, its natural herbs help in protecting the liver from the adverse effects of the consumption of alcohol.
7. Heparist-Zym
It is an Ayurvedic liver tonic with digestive enzymes that is helpful in curing and restoring liver functioning. It is enriched with a mixture of naturally-extracted herbal ingredients that together promote healthy liver growth. This ayurvedic syrup is useful in treating chronic and depleting diseases of the liver. Furthermore, it improves the fatty liver and reduces inflammation which results in a reduction in free radical damage.
Each 5ml of this Ayurvedic Liver Tonic contains:
| | |
| --- | --- |
| Ingredients | Quantity |
| Pippal | 50mg |
| Anardana | 25mg |
| Safed Jeera | 200mg |
| Ajwain | 300mg |
| Tejpatta | 50mg |
| Kali Mirch | 100mg |
| Amla | 200mg |
| Adrak | 100mg |
| Vaividang | 150mg |
| Dalchini | 25mg |
| Nagarmotha | 200mg |
| Pudina | 100mg |
| Harad | 50mg |
| Chitrak | 200mg |
| Sonth | 100mg |
| Nimbu | 25mg |
| Saindha Namak | 100mg |
8. Novalive-ZS
Another liver tonic Novalive-ZS is recommended by various doctors and Ayurveda experts for the management of liver diseases. It is filled with the rich capabilities of Silymarin (Jungli Katheri Root) and Kalmegh. Silymarin, also known as Jungli Katheri Root, is an antioxidant that reduces liver dysfunction and serves as a shield to protect the liver from free radical damage caused by alcohol metabolism.
With the anti-inflammatory, antioxidant, and hepatoprotective activities of Kalmegh, it is useful in preventing the damage caused by the free radicals on the liver cells. It is also used in the treatment of Chronic Hepatitis B Viral Infection; a serious liver infection caused by the Hepatitis B virus (HBV).
9. Livasafe
An Ayurvedic proprietary medicine Livasafe is an herbal remedial treatment for liver disorders. It comes in different flavors such as Pineapple, Tulsi, Rose, and Raspberry. Many people with the liver problems like Hepatitis, Cirrhosis, Constipation, Fatty Liver, Anorexia, Jaundice, etc., have seen a downfall in the severity of these diseases with the usage of this syrup. Kalmegh, Harar, Amla, Kutki, Bahera, Sarfooka, Saunf, Punarnava, Bhumi Amla, Makoy, Bhringraj, etc, are the organic ingredients that have been used to formulate this Ayurvedic Liver Tonic.
10. Livroot
Fulfilled with essential features and benefits, this Ayurvedic liver tonic acts as a powerful detoxification agent that assures ideal liver functioning. This syrup carries out its actions by performing as a liver flush that cleanses and wipes the body tissues.  It is also useful in activating appetite and growth in the body. Liver disorders like hepatitis and jaundice have been cured with this effective Ayurvedic Tonic by a number of liver patients.
Conclusion
These are the Top Ayurvedic Syrups in India that are counted as one of the best liver tonics for a healthy and maintained liver, enriched with herbal nature. All these Ayurvedic tonics are available at the Top Ayurvedic Tonic PCD Franchise Company in India, Arlak Ayurveda that presents complete quality assurance.