Reasons to Choose the Herbal Franchise in India- Herbs and herbs based medicinal products has very great important in India for a very long time because such medication does not treat the symptoms of disease but the root cause of the disease. Herbal product is a kind of branch of Ayurveda and this Ayurveda is derived from two Sanskrit word one is Ayur which means Life and other is Veda that means Science. In Sanskrit Science mean to Know. So, "To know about or to gain Knowledge about life is known as Ayurveda."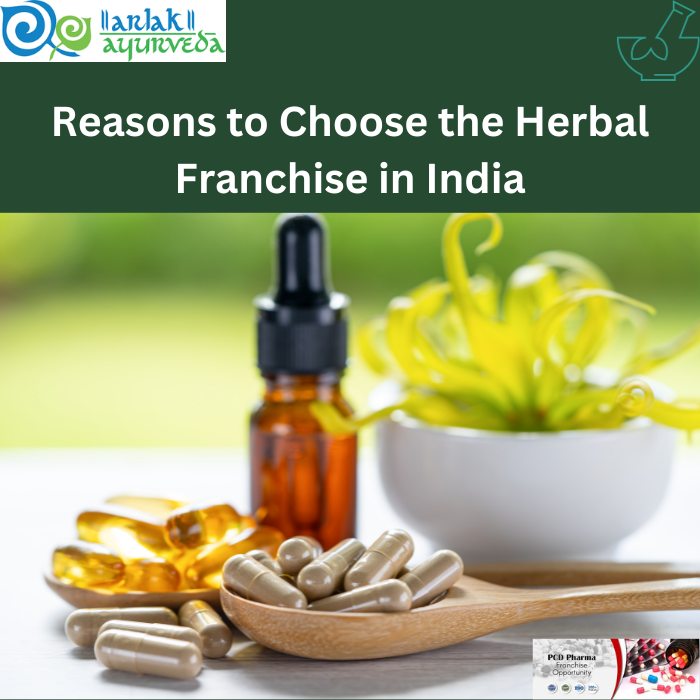 Now the modern science also accepted its importance and authentication which is why the herbal and Ayurvedic Product have great increasing demands in the pharmaceutical industry this could be your Reasons to Choose the Herbal Franchise in India because whole world is coming to India for taking herbal medication. For 3000 years India has been using herbal product to tackle many health relate problem. At start we use the herbs in raw form but with the help of modern science we can extract main component of herb and make it in different form so that it has different route of administration. Most importantly, this drug has no side effects this could be the other Reasons to Choose the Herbal Franchise in India.
Scope of Herbal and Ayurvedic Franchise in India
Any business depends on demand and herbal and Ayurvedic products have very huge demand. In rural area of India 80% of the people uses such products and as the awareness of such products are increasing which is why its demand is also increasing in the cities. 80 billion was the turn over just from Herbal product and this Herbal products demand are growing at a compounding rate and if you want to earn your profits in compounding rate then choosing herbal franchise in India could be the right decision. These are some Keys scope of herbal franchise in India.
Normally, chemical-based drug does not treat root cause of the problem where as herbal products eliminate root cause of the problem.
Right awareness about herbal product increasing its demand day by day.
Most of the medicinal herbs are found in India which reduces its transportation cost and increases the profitability.
High demand, now day herbal products are on high demand and demand is directly proportional to scope.
Benefits of Herbal Franchise in India
Herbs are naturally found ingredient from the nature and herbal products are combination of natural goodness which solves the main cause of the disease other than just reducing symptoms. As in the above paragraph we have mentioned scope of Herbal franchise here we are going to talk about the benefits that you can gain by taking herbal franchise in India.
High Profit Margin- Herbal products have high profit margin because of easier source of raw material and easy to formulate in comparison to chemical-based drug.
No Side Effect- Herbal products are goodness of nature and such products have no side effects and provide positive result on body which increases its demand.
Less Investment- Starting the herbal franchise does not require large amount of investment you can enter in this business with less investment.
Monopoly Rights- For your area you get monopoly rights for selling the herbal products which means you can become the Bose of that brand in your area.
These are the other benefits that you can by taking PCD herbal franchises in India
Promotional Tools- Pen, Notepads, Bag, Brand sticker, etc
Brand Name- Helps in establishing the trust between customer and brand.
Low risk High reward
Why Choose Arlak Ayurveda? The Best Herbal Franchise in India
There are so many herbal products manufacturers in India, if you are thinking why to choose herbal franchise of Arlak Ayurveda then you come at right place. Arlak Ayurveda is one of the leading names in India in the field of herbal products and well trust herbal brand. These are some of the key points why you should take herbal franchise from Arlak Ayurveda.
Product's Ranges- Varieties in products opens up more opportunities and Alark Ayurveda provides all form of herbal products.
R/D Team- This team helps in developing new and effective variation of the product for solving health related problems.
Quality Herbal Product- Standard raw materials are used for manufacturing high quality of Herbal products.
GMP and WHO- Follows all the norms of GPM and WHO while manufacturing herbal products.
ISO Certified- We are ISO certified company.
DCGI and FSSAI- Our all products are DCGI and FSSAI approved.
On time Delivery- We are flexible with the delivery timing and we believe in on time delivery.
Conclusion
This article is about the Reasons to Choose the Herbal Franchise in India, here in this article we have mentioned about the brief information about herbal and ayurvedic products and about the key benefits of choosing the herbal franchise in India and which company is most suitable for you with whom you can start your partnership and start your own pharma business with the help of their franchise model. We have mentioned all the reason why to choose herbal franchise in India but still if you have some queries, we can contact us here,
Our Address- SCO-5,6, Wadhwa Nagar, Near Hotel Sunpark, Zirakpur (Chandigarh)
Call Us- +91-7696263636
Mail Us- ar.arlakbiotech@gmail.com