Ayurvedic pharma franchise in Chandigarh– Arlak Ayurveda is a leading pharma franchise for Ayurvedic products. It is a well-known pharma franchise company to delivers high-quality Ayurvedic products across India. All the Ayurvedic products are manufactured with fresh herbal ingredients in our GMP-WHO certified manufacturing units.
Nowadays ayurvedic products are highly in demand due to the awareness amongst people. As a result pharma franchise business for Ayurvedic products is also superior. So if you are looking for the Ayurvedic pharma franchise company in Chandigarh then only one name comes in mind i.e. Arlak Ayurveda.


Our affordable investment plans and monopoly-based pharma opportunities attract customers to become our franchise associates from every corner of the country. Arlak Ayurveda offers you 100+ Ayurvedic products for various chronic diseases and general health supplements for the pharma franchise business.
Scope of Ayurvedic Pharma Franchise in Chandigarh
Chandigarh is a well-planned city in India. It is a land of opportunities and the best place to invest your money. It is the capital of two big cities Haryana & Punjab and the hub of big hospitals and health centers as a result, the demand for Ayurvedic products is very huge and the scope of the pharma franchise is very profitable. So if you are planning to invest your money to start a business in the long run then Chandigarh is the ideal destination for it.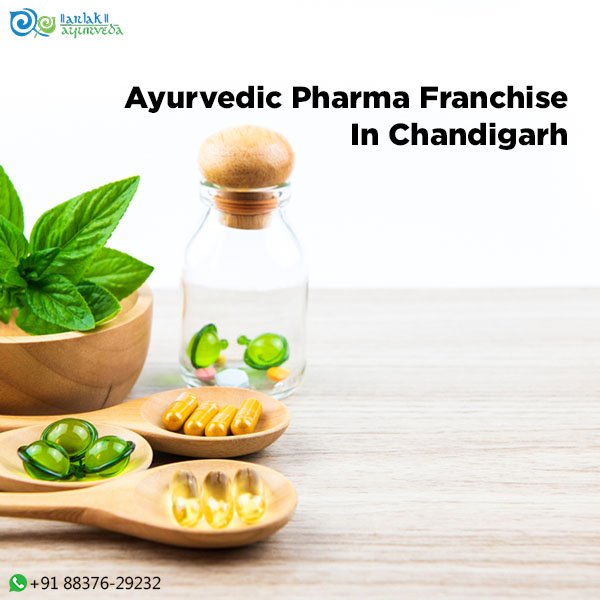 Why Choose Arlak Ayurveda for Pharma Franchise?
Arlak Ayurveda is one of the fastest growing pharma franchise company headquartered in Chandigarh. It's an ISO 9001:2008 certified Pharma Company backed with rich experienced pharma professionals and manufacturers who are engaged in improving and innovating new molecules. We are offering you 100+ Ayurvedic products made from high-quality natural herbs for PCD pharma franchise for Ayurvedic products in Chandigarh. Here are some benefits listed below for choosing Arlak Ayurveda.
• ISO and GMP certified Pharma Company
• DCGI and FDA approved drugs
• Highly skilled pharma professionals
• 100% customer satisfaction
• Hygienic processing and highly effective drugs
• High tech machinery and well-equipped labs
Significance of Working with Pharma Franchise Company
With technology advances, competition is also become's tough. Everyone wants to be on the top especially in the pharma sector due to the massive competition in the market so in, that case pharma companies play a very significant role in it. Still, many people are unaware of the concept of pharma franchise. If you are one of them then don't worry we will help you to understand what basically we do.
Pharma franchise companies help their associates to run their business smoothly by providing quality products, promotional support, and marketing strategies so that they can also become one of us and establish a good reputation in the market. The company also offers you monopoly rights so that you can run your business in a less competitive environment and earn big profits.
If all this information is not enough for you then feel free contact anytime on the given contact details. Our pharma experts are always there to assist you with full information related to PCD franchise.
Eligibility Criteria for Our Pharma Franchise:
• Minimum investment should be ranging from Rs. 30,000 to 40,000.
• Complete knowledge of the pharma industry. An experienced pharma franchise marketing professional preferred.
Contact Us;
Arlak Ayurveda Pvt.ltd.
SCO 5, Wadhawa Nagar, Near Hotel Sunpark Kalka Highway,
Dhakoli, Zirakpur,
Punjab 140603
Phone no. +91-7696263636
Email us at enquiry@arlakayurveda.com