Ayurvedic PCD Pharma Franchise in Kerala- Kerala is the center of medical tourism in India with people from all around the world visiting Kerala for treatment for various ailments using Ayurvedic medicines and treatment procedures. Kerala has the world's largest number of Ayurveda institutes and professionals working in the healthcare industry.
Arlak Ayurveda is determined to provide better access and better facilities to the people of Kerala and hence has come up with the Ayurvedic PCD franchise in Kerala. You can get the best promotional deals and become associated with Arlak Ayurveda and thus grow your business.
About 75% of the population in Kerala uses Ayurvedic medicines making Ayurvedic products one of the highly demanded products in the state. Arlak Ayurveda is an ISO certified company which ensures timely deliveries of highly effective and quality Ayurvedic medicines.
Invest in Ayurveda Franchise
Kerala is home to over 1400 Ayurveda related industries with a total annual turnover of $37 million with $8.3 million coming in through exports in 2016 alone. The state government also actively supports the Ayurveda industries with support for research and education leading to advancements in the overall development of the state.
As per a CII report, with an increase in non-communicable as well as chronic diseases, people have started to head to Ayurveda for solutions instead of allopathic medicines. This has resulted in an ever-increasing demand for Ayurvedic medicines and products in India.
As such partnering with Arlak Ayurveda for an Ayurvedic pharma franchise in Kerala is a golden investment opportunity for business owners and investors alike.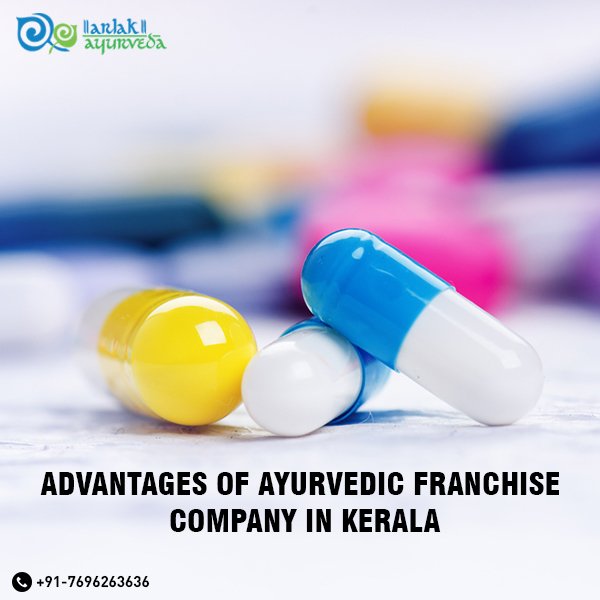 Advantages of Ayurvedic Franchise Company in Kerala
There are a lot of advantages once you are associated with Arlak Ayurveda as a franchise partner.
Partnership with one of the leading Ayurvedic medicine manufacturer in the country.
A healthy profit margin on all Ayurvedic products.
Clinically tested and approved Ayurvedic medicines at affordable rates.
The bare minimum investment for high returns.
Nominal risk as the Ayurveda industry is set to grow even bigger.
Business at your own rules as you are your own boss.
Our Line of Products
Arlak Ayurveda has introduced numerous new and innovative products to provide cure and relief to a number of ailments while keeping the essence of Ayurveda intact. We are marketing a wide range of products namely, capsules, syrups, ointments, powders, gels, oils, lotions, juices, etc. for a great investment opportunity for businessmen and entrepreneurs alike.
Vacant Locations for Ayurvedic PCD Pharma Franchise in Kerala
Associate with Arlak Ayurveda and get the quality products for franchise business in Kerala. Our company offers unique monopoly rights which help in doing ease of business in all regions of the country. We have introduced new and innovative products by keeping in mind the holistic concept of Ayurveda. We extend our franchise business opportunities for entrepreneurs and beginners who want to invest in the pharma sector by opening the doors for franchise opportunities in all the regions of Kerala. Mentioned are the locations for Ayurvedic Franchise Business in Kerala. 
Kochi
Kollam
Thrissur
Kannur
Kottayam
Palakkad
Munnar
Kannur etc.
Choose your location and invest in a franchise business with Arlak Ayurveda and avail of the Best products and services in Kerala.
Why Arlak Ayurveda?
Arlak Ayurveda understands your business and offers a service program to support those who are starting their businesses with Arlak Ayurveda products. Your financial goals become easily attainable with Arlak Ayurveda. Our WHO and GMP certified production units and processes provide quality medicines at affordable rates thus offering a steady revenue stream for your business.
All of these make Arlak Ayurveda one of the top Ayurvedic pharma companies in Kerala. We believe in moving forward as a group and as such allow our associates to take advantage of DCGI and FSSAI approved products while leading them in the correct direction to ensure a benefiting experience for our associates.