Ayurvedic PCD Pharma Franchise Company in Bihar – Every individual has a dream of living a healthy life. The pollution in the cities is making it difficult for everyone. Stress, tension, pollution is surrounding people hence, they are suffering from all kinds of mental and physical illness. The only ray of hope for people to live a balanced and healthy life is Ayurvedic medicines. Contact now to get more details: +91-7696263636 or drop us an email at- enquiry@arlakayurveda.com.
For more than 5000 years Ayurvedic medicines are used by people suffering from any mental or physical problem. They heal the person naturally. This medical system owes its origin from India and is one of the oldest healing science. After modernization, the world has moved ahead but people still prefer to consume Ayurvedic medicines in place of allopathic medicines.
Why Choose Ayurvedic Medicines?
Ayurvedic treatment is a combination that includes herbs, metal, minerals, diet, and lifestyle. They help to treat stress and anxiety issues in a natural way. They help in reducing blood pressure, control type 2 diabetes, helps in weight loss, cures hormonal imbalance in the body, and many more. Ayurvedic medicines mainly promote a plant-based diet that is very nutritious as they are rich and anti-oxidants.
And the most important benefit is that they have no side effects on the human body, hence people have been using Ayurvedic medicines for a long but now the demand is increasing and especially in the state of Bihar. If you are planning to start a new venture, you should invest your money in an Ayurvedic Franchise Company in Bihar.
The Growing Demand for Ayurvedic Medicines in Bihar.
Many pieces of research and report suggest that the demand for Ayurvedic medicines is increasing in the state of Bihar and it will increase more in the near future. The demands of people are unmet and in order to fulfill the requirement and demand of the market, it is profitable to invest your money in the Ayurvedic PCD franchise in Bihar. Head start your business and make huge profits in this state. There are many established companies that have a huge customer base and market credit and you can collaborate with them to start your new venture.
Many investors are investing in this industry to have a flourishing business in the future because of the industrial policies of this state growing demand for Ayurvedic medicine in this. The government is promoting the industry so the industrial policies are favorable to start your business. By investing your money you can choose the area where you want to start your business as you will be the monopoly holder and work independently. This will help you to earn profit not only now but also in the long run.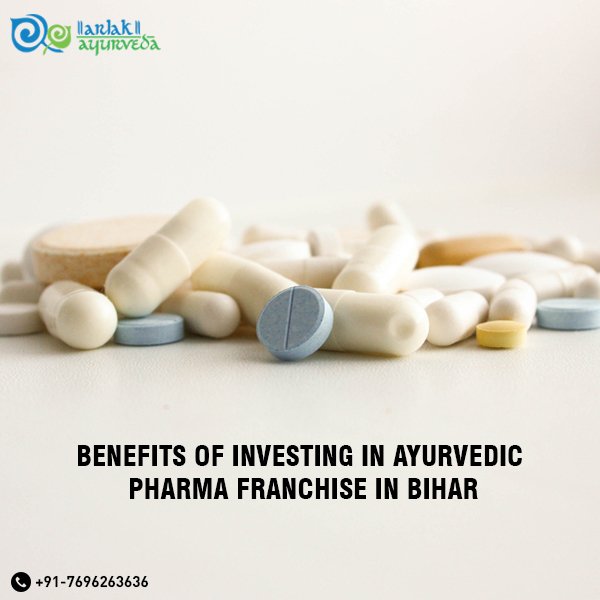 Prominent Locations for Ayurvedic PCD Pharma Franchise in Bihar
We at Arlak Ayurveda is one of the most trusted brands for providing Ayurvedic PCD Pharma Franchise in Bihar. Our company provides a wide range of services and products for franchisees, suppliers all over India. Bihar has a lot of demand for pharmaceutical products which is meant to be completed. So, if you are planning to start a franchise business choose us we will offer you the best deals and offers with Ayurvedic Products. Our monopoly-based PCD franchise in Patna will help you to grow your business in a highly competitive market. Here we have listed the vacant cities of Bihar where we are providing herbal ayurvedic product franchise.
Arwal
Araria
Banka
Aurangabad
Bhagalpur
Arrah
Buxar
GayaMunger
Nawada
Patna
Samastipur
Hajipur etc. 
Benefits of Investing in Ayurvedic Pharma Franchise in Bihar
It does not matter if you are a newcomer or pharma professional if you want to invest your money it is advised to invest in Ayurvedic pharma companies of Bihar because of several reasons. Data shows that there has been an increase of 7% in the use of Ayurvedic products in this state since 2016. If the use of Ayurvedic products is increased it means that the market is expanding at a high rate and now are the right time to invest your money in the Ayurvedic pharma franchise in Bihar.
If you invest in this industry, you do not have to establish a manufacturing unit. It not only saves time but also money. The state-of-the-art infrastructure is used by the pharma companies in Bihar and no compromise is made with the quality of product and all the guidelines are strictly met. With the increase in popularity of Ayurvedic medicines, the market and demand are bound to increase leading to higher profit margins. Therefore, this is not the time to think but use your money wisely and make your investment today.
Find the Referral Links of Arlak Ayurveda
Advantages of owning an Ayurvedic PCD Franchise Business
How Ayurveda has changed Indian Pharma Industry?
Best Ayurvedic PCD Franchise Company in India
How to take the franchise of an Ayurvedic Medicine Company?
Which are the best Ayurvedic Products for PCD franchise Businesses?