Ayurvedic PCD Franchise in Jammu – As per a recent healthcare report, the Ayurvedic medicine industry in India is valued at USD 300 billion. This business sector is growing at a colossal pace and it is not predicted that it will reach USD 711 billion by 2024. Thus, the scope of dealing with herbal products is excellent in the Indian market. So, if you are willing to secure a bright future in the Ayurvedic sector and want to establish your own business in all parts of Jammu, then take the sublime business opportunity provided by the Best Ayurvedic PCD Franchise Company in Jammu, Arlak Ayurveda.
Arlak Ayurveda is a prime division of Arlak Biotech that is engaged in the business of manufacturing and supplying a pure and natural range of Ayurvedic products in the Indian market. Accredited with ISO 9001:2008 certified pharma company that also has its own GMP and WHO authorized manufacturing arrangements. The company is seamlessly bridging the gap between the unmet needs of the patients by providing them with quality products. Our products hold all certifications and are available in the form of Capsules, Tablets, Syrups, Creams, Ointments, etc. Working with the Top Ayurvedic PCD Franchise in Jammu will get you some irresistible business benefits like high-quality products, superb business support, free promotional tools, and much more.
So, if you wish to start your own business with the best business support and you want to deal with high-quality Ayurvedic products, then choose Arlak Ayurveda. Dial +91-7696263636 or write us an email at ar.arlakbiotech@gmail.com to know more.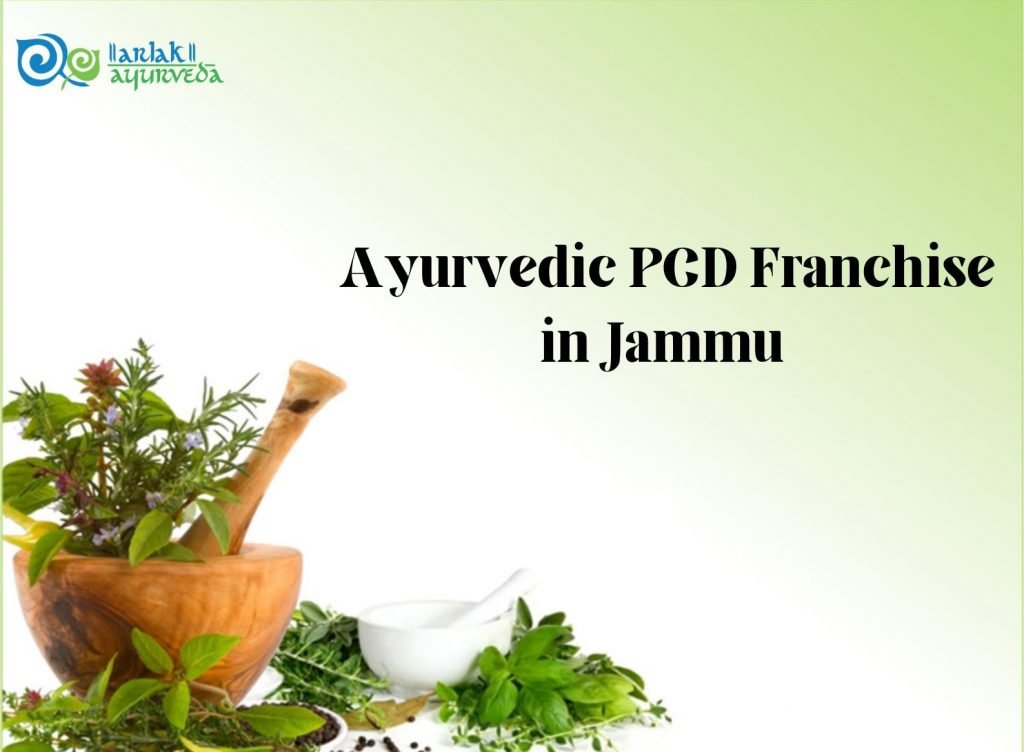 Scorching Scope of Starting PCD Franchise in Jammu
Jammu is the home to 717,000 people and with a 1.13% rise in the population from the last year, the demand for pharma products has increased in this city as well. As per a recent study, there has been almost 70% growth in the demand for healthcare medicines in Jammu alone. The growing demand and shortage of supply have opened the doors for many profitable business deals.
With the growing healthcare issues and superb governance, the need for Ayurvedic products has accelerated in the Jammu market. Therefore, if you have any plans to start your own business in the pharma sector, then we suggest you start a business with Arlak Ayurveda. We are the Ayurvedic PCD Franchise in Jammu that provides world-class herbal products and offers astonishing business deals.
Best Ayurvedic PCD Franchise Company in Jammu – Arlak Ayurveda
Arlak Ayurveda is the region's top pharma company that exclusively deals with a broad range of ayurvedic products. The company delivers top-of-the-line ayurvedic products that hold a higher biological advantage and are superior that the rival products. We are among very few companies in India that have a PAN India presence. Arlak Ayurveda is backed by experienced pharma experts and Ayurvedic practitioners who put the resources in the right direction and bring out a highly valued herbal range. Have a look at the highlights of the Top Ayurvedic PCD Franchise in Jammu:
The company manufacture products using genuine quality herbs.
Our products are produced under GMP-WHO-approved facilities.
We ensure 100% quality checking and testing of the products.
The company owns spacious warehouses for germ-free product storage.
We provide free-of-cost promotional tools to franchise associates.
Extra Ordinary Ayurvedic Range Offered with 100% Quality Assurance
Being the best pharma company, Arlak Ayurveda delivers a full quality checked Ayurvedic range for the Ayurvedic PCD Franchise in Jammu. As the Ayurvedic division, we full aim to provide natural products that possess better quality and are best in terms of security, reliability, and shelf-life. Our products are available at affordable prices in the Indian market plus we ensure to pack them under ait tight packaging to enhance their shelf life and make them more attractive. Have a look at the Ayurvedic range delivered by the Top Ayurvedic PCD Franchise Company in Jammu:
Ayurvedic Capsules.
Ayurvedic Ointment.
Herbal Juices.
Ayurvedic Dental Care.
Ayurvedic Syrups.
Ayurvedic Powder.
Ayurvedic Hair Ol.
Join Hands for the Top Ayurvedic PCD Franchise in Jammu
If you want to start your own business and you want to get great returns on your investment, then joining hands with Arlak Ayurvedia will be a profitable business decision. The company is backed by all the resources and tools that will allow you to start and expand your business. We work on mutually agreed terms & conditions and provide business deals that render equal profits and assured returns. All the franchise holders will get ample business support from the company side that will allow them to market and promote their products without any hassle. Have a look at the benefits of working with Arlak Ayurveda:
Full monopoly rights.
Timely product delivery.
Genuine quality Ayurvedic products.
Pocket-friendly business deals.
Free promotional tools.
24*7 customer support.
So, if you wish to own your business with Ayurvedic products and you want to work with a reliable pharma company, then work with the Best Ayurvedic PCD Franchise Company in Jammu, Arlak Ayurveda.
Contact Details
Name: Arlak Ayurveda.
Address: SCO-5-6, Wadhwa Nagar, Near Hotel Sunpark, Zirakpur (Chandigarh).
Phone: +91-7696263636.
Email: ar.arlakbiotech@gmail.com.